Right up front, let me just say, I'm making no comment about the recent-ish Tron:Legacy movie. None. Other than to say "yawn".
But it doesn't matter how lame the movie might have ended up, you can't argue against how cool the light cycles and suits were. I also ride a motorcycle and would love to try one of those light cycles out. Not to mention, trade in my gear for the replica leather gear out there. And I'm moving off topic, huh.
You wouldn't want to be in a replica Sam Flynn suit on your bike, so you're in luck that Podium released some Tron cycling gear. (Identity disk optional!) They came out with a long-sleeved jersey (no longer available) with coordinating bib shorts (no longer available) to give you a nice kit. And the shorts are generic enough to pair with other jerseys if your Tron one is in the wash.
However, they started out with a skinsuit version that is pretty sweet looking if you're one of those people willing to slide into one of those. It basically looks just like the jersey and shorts combo, just in one piece. And if you look closely at their design, you can see the awesome blue glow to the "lighted" portions, making it look like the lights are on.
Slightly different, but still very inspired by Flynn's suit is a version from SoMart I found on eBay for $80.99. (Nice!) It's also long-sleeved, but comes with long bib pants instead of shorts. Which makes more sense to me anyway. The white sections don't have that nice blue glow to them and there are some straight blue sections of "light" on the shoulders as well as some tone-on-tone design elements.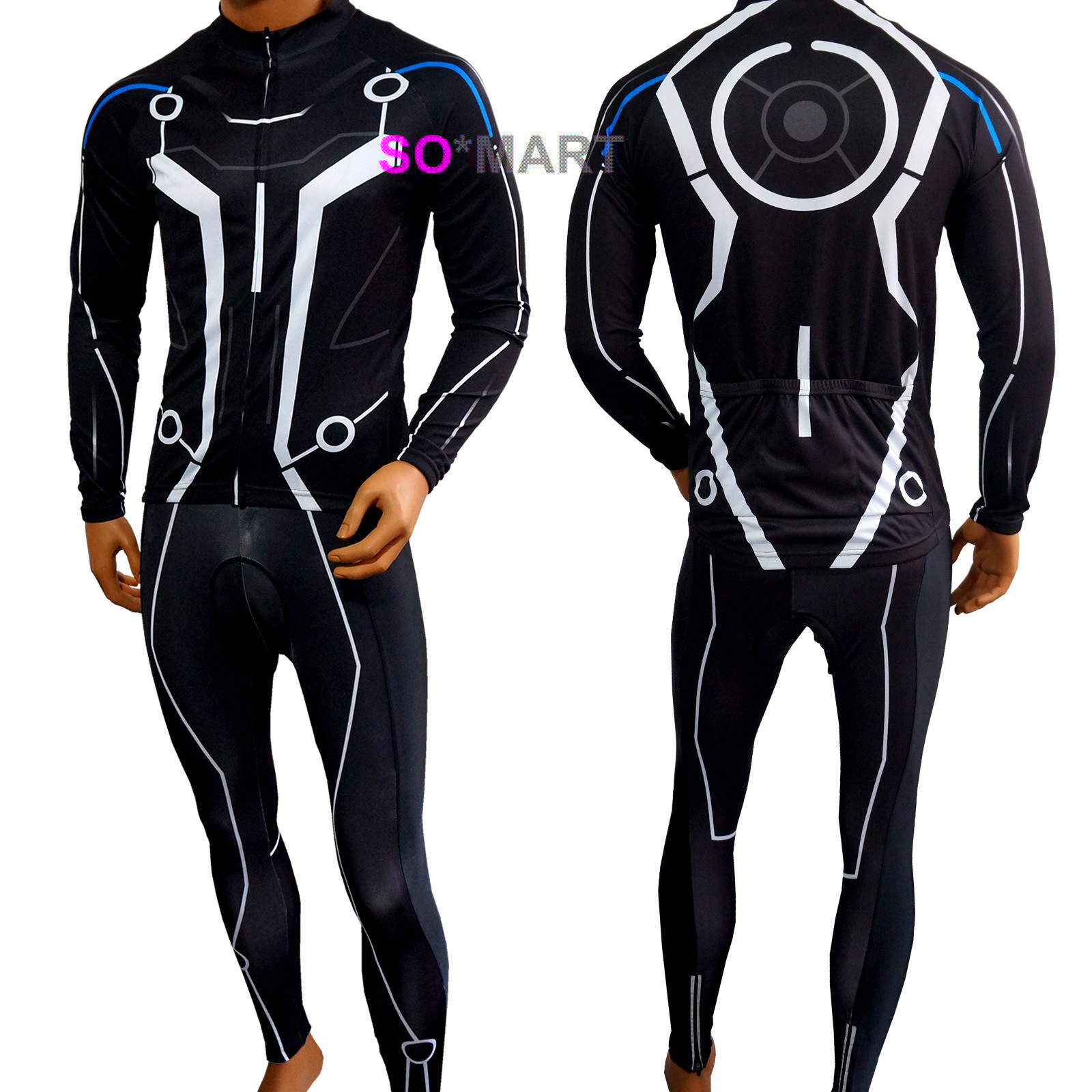 Disclosure of Material Connection: Some of the links in the post above are affiliate links. This means if you click on the link and purchase the item, I will receive an affiliate commission, probably enough to get a cup of coffee. I generally only recommend products or services on this blog I would wear personally and believe you will find cool as well. I am disclosing this in accordance with the Federal Trade Commission's 16 CFR, Part 255: "Guides Concerning the Use of Endorsements and Testimonials in Advertising."