OK, I will again fess up to American ignorance of many things European. I've seen the lion so many times on various English banners that I thought the Lion of Flanders was just another version. I know. Stupid. I know Flanders isn't English.
Anyway, there are connections between the lions (and you should check out info on heraldry if you want to know more about that) but we're focusing on just the Flanders version today. So lots of yellow, black and a dash of red coming up!

World Jerseys Lion Of Flanders Cycling Jersey
$49.99 at Nashbar

Hincapie Sportswear Velocity Plus Lion Of Flanders Jersey
$58.48 at Competitive Cyclist
looks like it's clearing out because that price is more than half off.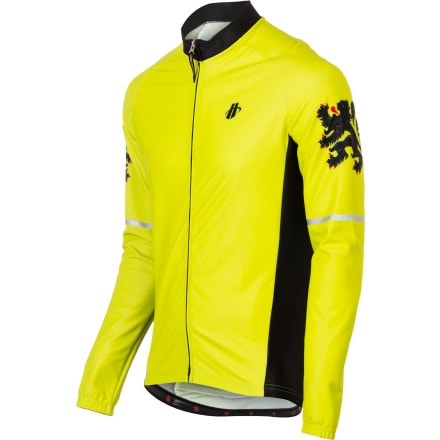 Hincapie Sportswear Velocity Plus Lion Of Flanders Jersey Long Sleeve
$77.97 at Competitive Cyclist

Lion of Flanders Road Jersey
£48.95 at Foska

Women's Flanders Short Sleeve Cycling Jersey by Sugoi
$48.95 at Cento Cycling

SockGuy Classic 3in Lion of Flanders Cycling/Running Socks
At Amazon.com

Save Our Soles Lion Of Flanders Sock
$7.95 at Nashbar

Save Our Soles Men's Flanders 7-Inch Socks, Black

Flanders Lazer Rain Shell
Disclosure of Material Connection: Some of the links in the post above are affiliate links. This means if you click on the link and purchase the item, I will receive an affiliate commission, probably enough to get a cup of coffee. I generally only recommend products or services on this blog I would wear personally and believe you will find cool as well. I am disclosing this in accordance with the Federal Trade Commission's 16 CFR, Part 255: "Guides Concerning the Use of Endorsements and Testimonials in Advertising."